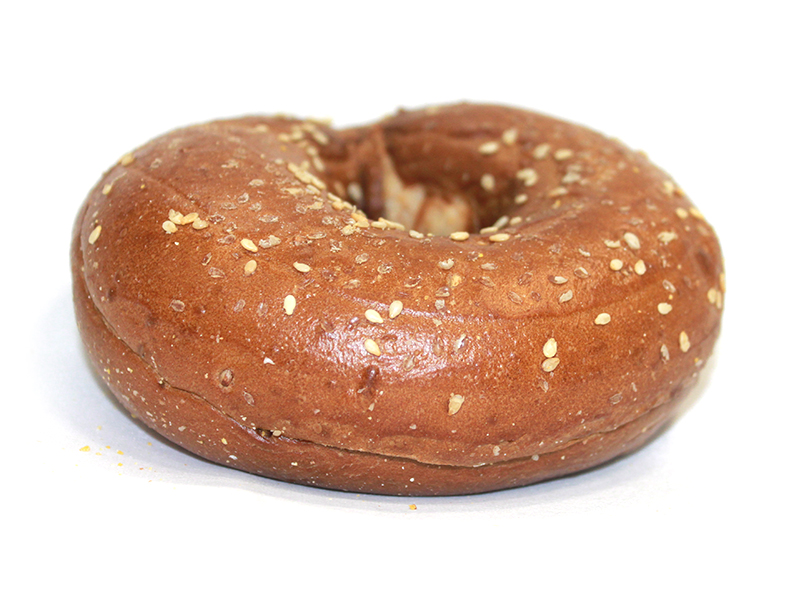 INGREDIENTS: ENRICHED WHEAT FLOUR, WATER, SUGAR, RYE FLOUR, RYE MEAL, VEGETABLE OIL(SOYBEAN AND/OR CANOLA), SALT, SESAME SEEDS, CARAMEL COLOR (CONTAINS SULPHITES), YEAST, MALT BARLEY FLOUR, CALCIUM PROPIONATE, VEGETABLE MONO AND DIGLYCERIDES, WHEAT GLUTEN, CALCIUM SULFATE, CARAWAY SEEDS, DEXTROSE, LACTIC ACID, SODIUM DIACETATE, CALCIUM CARBONATE, NATURAL FLAVOUR, SILICONE DIOXIDE, CORN STARCH, AMYLASE, CORNMEAL, SORBIC ACID.  
May contain milk ingredients, egg, and soy.                                                                                        
INGRÉDIENTS: FARINE DE BLÉ ENRICHIE, EAU, SUCRE, FARINE DE SEIGLE, REPAS DE SEIGLE, HUILE VÉGÉTALE(SOYA ET/OU CANOLA), SEL, GRAINES DE SÉSAME, COULEUR DE CARAMEL (CONTIENT DES SULFITES), LEVURE, FARINE D'ORGE DE MALT, PROPIONATE DE CALCIUM,  VÉGÉTAUX MONO ET DIGLYCÉRIDES, GLUTEN DE FROMENT, SULFATE DE CALCIUM, GRAINES DE CUMIN DEXTROSE, ACIDE LACTIQUE, DIACÉTATE DE SODIUM, CARBONATE DE CALCIUM, SAVEUR NORMALE, BIOXYDE DE SILICONE,  FÉCULE DE MAÏS, AMYLASE, SEMOULE DE MAÏS, ACIDE SORBIQUE.
Peut contenir des substances laitiers, d'oef et soya